Yellow Quill First Nation is currently in the works to join FNLMA and are having information sessions where majorities of band members reside including the Band itself and also the urban areas of Saskatoon, Regina, Edmonton, and Calgary. The dates of the information sessions are as follows:
Saskatoon-March 5, 2015 Ramada Inn, on idylwyld Dr. 5PM-8PM
Regina-March 12, 2015 Best Western Seven Oaks, 777 Albert St. 5PM-8PM
Edmonton-March 17, 2015 Ramada Inn, 11834 Kingsway Edmonton, AB. 5PM-8PM
Calgary-March 19, 2015 Carriage House Inn, 9030 Macleod Trail South, AB. 5PM-8PM
Yellow Quill First Nation-March 24, 2015 Band Hall. 5PM-8PM
In order to get attendace to these very important information sessions, the incentive of door prizes are being presented; in Saskatoon there were four winners of 2-$100 Presidents Choice gift cards, 1-family movie night gift certificate, and 1-Mini IPad!!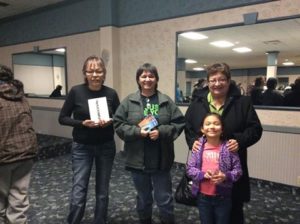 Winners, Linda Slippery(Ipad Mini), Debbie Manz(Family Movie Pass), Gwen Hugli and Raquel Bluebell (both won $100 Presidents Choice Gift Cards). Note: Must be in attendace during draw to win.
Regina- March 12, 2015
1st prize, IPad Mini- Devon Ahpay
2nd Prize, $100.00 Gift Card-Soreya Apooch-Isnana
3rd Prize, $100.00 Gift Card-Suzanna Roper
4th prize, Family Movie Pass-Curtis Jr Cheekinew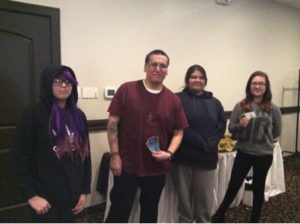 Edmonton-March 17,2015
1st Prize, IPad Mini-Shawn Martin
2nd Prize, $100.00 Gift Card-Alice Nieman
3rd prize, $100.00 Gift Card-Delores Martin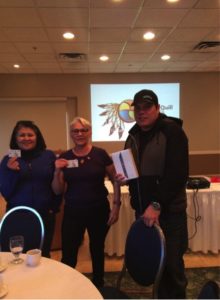 Calgary-March 19, 2015
1st Prize, IPad Mini-Liam Cachene
2nd Prize,$100 Gift Card-Cheyanne Pelletier
3rd Prize, $100 Gift Card-Julisa Quewezance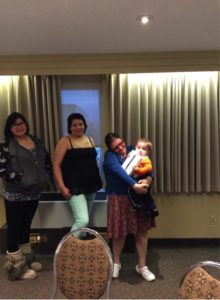 Yellow Quill-March 24, 2015
1st Prize, IPad mini- Kelly Squirrel
2nd prize, Star Blanket-Joe Quewezance
Ernie Scoles Picture-Marty Kishayinew
$100.00 Gift Card-Lorne Sr Roper
$100.00 Gift Card- Joe Quewezance