Economic Development Project - Current
The 1992 signing of the treaty land entitlement (TLE) agreement was instrumental in allowing Yellow Quill to allocate certain TLE funds towards real estate investments of land and commercial properties.  Below are examples of properties that were purchased by Yellow Quill TLE – with the exception of the Archerwill property which was purchased by Yellow Quill Holdings profits.
Archerwill manufacturing facility
First Nations Bank Building in Saskatoon
Saskatoon Parking Lot
Land base throughout Saskatchewan
Archerwill Property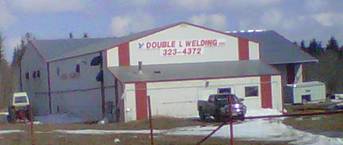 The Archerwill property was purchased in December 2011.
A portion of the property is currently leased by One Earth Farms and the remainder serving as a training facility for the Yellow Quill welding program. The welding program was made available through SIAST and Carlton Trail Regional College – training was provided to band members over a period of 20 weeks.
First Nations Bank Building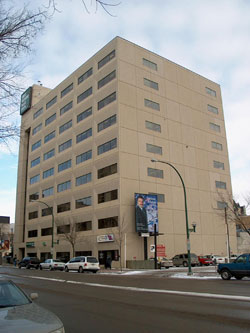 First Nations Bank Building (FNBB) is a nine story office building located at 224 4th Avenue South in Saskatoon. The property has zero vacancies and is home to the following tenants:
First Nations Bank
Claude Resources
Shore Gold Inc.
Merchant Law Group
49 North Resources
MGI Securities
BEC International Inc.
Ministry of Governments Services (Family, Crown Prosecutor, Court of Queens Bench)
Nova-Tek Innovations Inc.
Quon Ferguson
FNBB was purchased via Yellow Quill TLE funds and carries no debt or encumbrances. A recent appraisal in March 2011 confirms the value has increased exponentially since the date of purchase. With the recent upswing in the provincial economy – it is expected the value of the property will, over time, continue to increase.
Saskatoon Parking Lot – Office Tower Development Project
The Yellow Quill parking lot located at 240 – 4th Avenue South in downtown Saskatoon is suitable for commercial development opportunities such as an office tower. In November 2010, Yellow Quill Holdings engaged MHPM to develop a Concept Plan (CP) and examine the prospects and Saskatoon market, in general, for a Class A office tower. The CP was presented to Yellow Quill membership (i.e. on-reserve and urban centres of Saskatoon and Regina) in December 2010 for discussion – discussion to further examine the feasibility of an Office Tower and also reserve creation for the property. In both instances, membership endorsed the CP and need for further study by way of the Business Case Analysis (BCA) and at the same time supported reserve creation for the property.  As a result, MHPM was assigned to undertake BCA. The BCA was completed in late September 2011 and presented to membership in March 2012. Membership and leadership subsequently endorsed the project to move forward to Schematic Design (SD) and Design Development (DD). In the summer of 2012, Yellow Quill Holdings engaged Kindrachuk-Agrey Archticects to undertake SD and DD.
In August 2012, Yellow Quill membership voted 90% in favour of designating the property for purposes of commercial development.
Realizing the Possibilities
As the Office project moves forward – Yellow Quill Holdings is looking at the possibility of creating two new companies that will provide direct service to both properties of First Nations Bank Building and new Office Tower. Since the date of purchase, FNBB is provided property management service by Colliers McClocklin – Yellow Quill Holdings is of the opinion that should sufficient capacity be built within the Holding company, we would look at eventually providing property management service directly to both buildings. Holdings would also look at providing custodial services to both properties – capacity and expertise must first be in place to justify the motives to two new companies.
Yellow Quill Holdings with direct Kindrachuk-Agrey Architects to begin the Construction Documents and Specifications phase in 2014 with construction starting in 2015. Building will be available for occupancy in 2017.
Land Base
The use of TLE funds has allowed Yellow Quill First Nation to expand its land base to over 35,000 acres throughout the province and also an urban parcel in downtown Saskatoon (i.e. adjacent to the First Nations Bank Building).
Currently, the Yellow Quill land is situated in the following urban and municipal areas:
City of Saskatoon (Parking lot)
RM of Kelvington
RM of Ponass Lake
RM of Corman Park (north-east of Saskatoon near Cathedral Bluffs and Wanuskewin park)
RM of Porcupine
RM of Caledonia (south of Regina)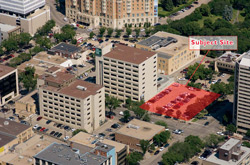 The Saskatoon parking lot located at 240 4th Ave South is leased to Imperial Parking Canada  – proceeds of which are used to pay property taxes to the City of Saskatoon and remaining funds applied towards economic development projects and Yellow Quill community assistance. Its location is ideal for potential future development of an office tower or other commercial uses.
The roughly 35,000 acres of land is mostly agriculture and pasture lands – most of which is leased to local farmers at fair market value. Similar to the Saskatoon parking lot – proceeds are used to pay property taxes and remaining funds applied towards economic development projects and Yellow Quill community assistance.
In March 2011, over 16,000 acres of TLE land moved to reserve status.