Yellow Quill First Nation Chief and Council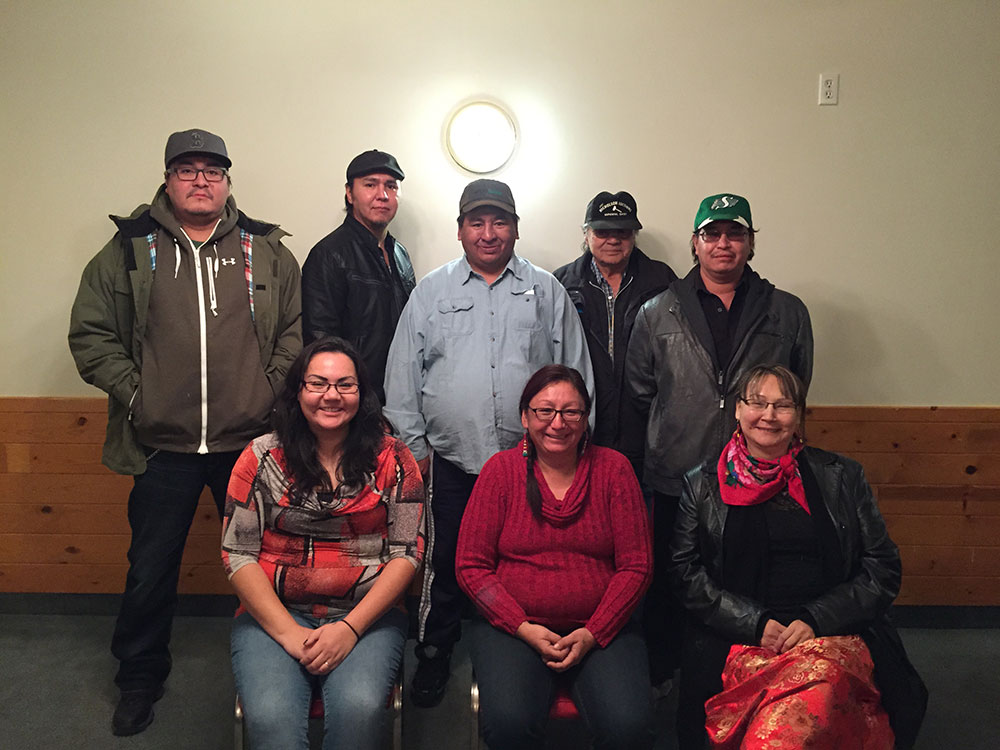 Top (left to right): Councilor Myron Neapetung, Councilor Terry Kishayinew, Chief John Machiskinic, Councilor Joe Crowe, Councilor Joey Machiskinic.
Bottom (left to right):Councilor Erin Poochay, Councilor Donna Poorman, Councilor Pauline Whitehead.
Chief John Machiskinic
John is 53 years old. Johns' common law wife is Barbara Bluecloud between them they 6 have children. He has 3 grandchildren. Barb and John have been together for 8 years. Currently, there are 14 people in the household; 10 under 18 years of age, 2 over 18 years of age, and Barb and John. John has been known for many years as 'Bull'. There is much speculation as to how he got the name Bull but, no one wants to say for sure. Bull played fastball for many years as a pitcher on the Nut Lake Royals team. He also was the goalie for the Yellow Quill hockey teams. These days he spends his time helping others as a traditional man. He is humble, spiritual and knowledgeable. Prior to being Chief, he was a Councilor for 9 years (three terms) and could be consistently found at the Band Office.
Donna Poorman
Donnas' immediate family consists of; 7 children, 14 grandkids and still raising her sisters son. Donna is a residential school survivor. She went to residential school for 8 years and completed her Adult 12 in Warman. Donna worked in Home Care at the Health Center and drove school bus for eight years. This is Donnas' fourth (3 year) term as Councilor. Her hobbies include; reading, golfing and helping everyone. Her biggest accomplishment is that all her kids graduated from high school and this is something she wants for every parent. Her heart is very passionate about helping who she can. Her goal, as Councilor, is to help move people forward with their lives and to empower people so they can be proud of themselves; by doing instead of complaining. She wants to spread positive energy so everyone will feel good about themselves and carry their head high like the beautiful people they are.
Erin Poochay
Family comprised of; 3 step daughter, adopted her brothers and one son with her husband, Bentley Poochay of five and a half years. They have two grandsons. Erin is 31 years old. She graduated from high school in 2001 from Nawigizigweyas Education Centre (a part of the first graduating class there, 10 at the time). In 2004 attended and received Women In Trades Certificate from SIIT. Her hobbies are; sewing, singing and hiking. "I started university at the First Nations University in 2008, at first for a Journalism Bachelor Degree… I quit school a few times and changed my mind, I transferred into the Indian social work program in 2010, but switched to Indigenous Studies after a semester. At the end of 2011, I became a Video Teachers Assistant part-time and continued studying. Currently I am in my final year, I plan to complete my final classes online part-time in my spare time. I was also a researcher for my then professor Miriam McNab, she is in pursuing her doctorate. I searched archives for her. I am mentioning this because of my education I was learning and analyzing the issues within First Nations communities. I enjoyed the researching aspect of my education, and I feel that understanding how to research I have valuable skills when it comes to being a Band Councilor. Also my teaching experience has given me communication skills that will aide in articulating the correct information. I took part in many youth activities in Yellow Quill, we were shown how our democracy worked, and I think if I didn't do that then I wouldn't have a general idea on how to sit at the Chief and Council table now. I look forward to serving this term, it's all so new and exciting for me."
Pauline Whitehead
Pauline is 45 years old. She has three children and two grandsons. Her oldest is Kris Whitehead, he is a single parent father to a 9 year old boy, Kadence Desjarlais. Kris graduated from NEC in 2004. Paulines' second child is Mathew Whitehead, he has no children and works as a renovation carpenter for the same company since 2008. Her youngest is is Raven Whitehead, she is a single parent mom to her 5 year old son, Jericho. Raven is a freelance photographer. Pauline has been living a drug free and alcohol free lifestyle since 1998. She worked at the Metis Addiction Council of Saskatchewan since 2007 as an Addiction Worker. In 2008, she took time off from work when she was awarded a scholarship to Vancouver Film School and completed a one year full time Writing for Film and TV Diploma program. She wrote two feature length screenplays, one portfolio short that was produced into a five minute film that can be accessed on the Vancouver Film School channel. In 2010, she wrote, directed, and produced a play "Prairie Song, An Indian Cinderella Story" for Thunderbird Theatre Group. The group toured the Saskatoon Fringe Festival, Vancouver International Fringe Festival and Aboriginal Aids Conference. She studied a one year Business Administration Program at Saskatchewan Indian Institute of Technologies and received a Business Administration Certificate in spring 2013. Upon graduation, she was the Assistant Regional Director and was Acting Regional Director during that period for several months. Pauline went back to school to finish up her undergraduate degree program and was part of the Spring 2014 Convocation at the University of Saskatchewan with a Bachelor of Arts Degree. July 2014, she was the Manager for the Community Cultural Circle Program for YQ. Pauline works very hard for the community and enjoys challenges. She has respect for everyone and does not demand it in return. As a leader she can see the bigger picture and wants everyone to get up and be proudof their culture and traditions. Pauline brings happiness to the office with her laugh.
Terry Kishayinew
Terry's family includes; three children (ages 22, 16, 5), nephew Durant Brania-Moose; and two grandchildren (ages 4 and 2). Terry has been married for three years and common-law for over five years to Tracey Kishayinew (nee Brania). He is 40 years old. Terrys' late parents were Richard Moose and Agnes Kishayinew and he was raised by his late grandparents Frank Yellowquill and Ellen Kishayinew. Prior to returning to Yellow Quill he was employed for 13 years at Canadian Tire as Store Manager. He has an education in Lands Management and Bio-Resources from the University of Saskatchewan. He enjoys family time and helping/working with cultural events like feasts and rounddances. "I also enjoy helping the young men from school with sweats on Fridays".
Myron Neapetung
Myron is 38 years old. His common law wife is Crystal Fineday and they have been together now for seven years. They have three children together. Myron has six children; 4 boys and 2 girls. His education includes Indigenous Studies and Indian Art History; graduated in 2009 with distinction from First Nations University. In 2011, Myron got his Teaching A Certificate from ITEP. His mom is Bernadette Neapetung and his father is Gilbert Kewistep. He takes pride in being a YQ Councilor and representing the community with the utmost respect. He also takes pride in the advocacy work he does for the families and children. His hobbies include; enjoys being a hockey dad and watching his kids playing hockey, watching movies, being a UFC fan, and travelling when he can afford to. "I encourage the Band Members to work together and to be respectful and courteous with all our staff that works for the Band. If you have any concerns with any staff, in a certain area, notify the proper portfolio holder. The only way we will move forward is by working together and being kind to one another. We have to stay away from the negativity and lateral violence (gossip). Be positive and only good things will follow."
Joe Crowe
Joe Crowe has five children and many grandchildren. For some time Joe raised his children as a single father. Now, he is married to Irene. Joe has been sober for 37 years and will celebrate his 38th year in May. He is a residential school survivor. Joe spent many years in Saskatoon. One of his many and various jobs was working for the City of Saskatoon, Parks and Maintenance. He did this for the City for over 20 years. In Later years, he moved closer to Yellow Quill and has been working in different capacities but always helping. He serves the community as an active traditional Elder, sat on various committees, took on developing many projects and can be seen visiting everyone near core area buildings. Joe has also served as an Elder on the Project Management Team for the construction of the Dakota Dunes Casino. He also sat on the Board of Directors for the Dakota Dunes Community Development Corporation prior to running for Council. He has also been an Elder for SK Justice to help with culture and ceremony for incarcerated prisoners. His concerns include; protecting the traditional lands in the Porcupine-Pasquia hills forest, health and the holistic well-being of people. He is a highly respected Elder across the province.
Joey Machiskinic
Joey is 45 years old. He has five children; 4 sons and 1 daughter. His common-law wife is Barb Squirrel and they have been together for over 10 years and have the 4 boys together. Joeys' late parents are Mike Whitehead (a Councilor himself) and Julia Machiskinic; they were together for a very long time. Joey has lived on the reserve for most of his life and attended school in both Rose Valley and Kelvington. He graduated from Tisdale in the Adult 12 program. Joey has been working in different jobs like; City of Calgary Parks division, a seasonal firefighter with Government of Alberta, construction jobs in the Winters and most recently, Manager at the YQ Store, before he ran for Council. This is Joey's second (3 year) term in Council. Joey also serves the community in a cultural capacity. His hobbies include; mechanics, golfing and helping in the community. Joeys' message is "Always believe in the Creator. Although we go through hardships in life, take them as tests on how strong you will be in the future."
Portfolio Assignments
Administration/Social Development – Erin Poochay/Joey Machiskinic
Band Office Administration & Staff, Programs and Services
Social Assistance
Police Management, RCMP, Fine Options and Community Based Justice and Gaming License
Membership/Citizenship
Education – Donna Poorman/Pauline Whitehead/Myron Neapetung
Nawigizigweyas Education Center (NEC)
Curriculum Development
Post Secondary
Cultural/Traditional Knowledge
Rural Labor Force Development
Daycare & Headstart Programs
Health – Joe Crowe/Terry Kishayinew
Clinic Administration & Finance and Programs and Services
Medical Transportation
Addictions Services
Housing /Operations & Maintenance – Pauline Whitehead/Terry Kishayinew
Band & CMHC Housing and Reno's
Community Infrastructure, Water, Sewer, Sanitation, Environment
Community Planning and Major Capital Projects
Roads and Fire Protection
ICFS/Urban – Myron Neapetung/Erin Poochay
Social Development
Urban Development, Programs and Services
LFD Urban, STC Urban
Aboriginal & Treaty Rights and Natural Resources
TLE/Yellow Quill Holdings – Joey Machiskinic
TLE Lands
Band Governance – John Machiskinic/Donna Poorman
Administration & Finance
Economic Development and YQ Store
Human Resource Department
STC, AFN, FSIN, Treaty 4 and TLE Chiefs